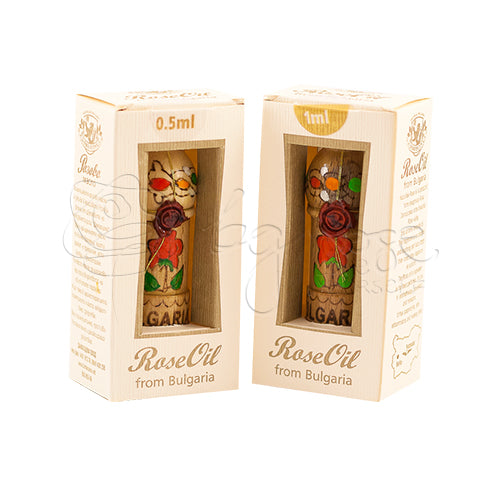 100% Essential Rose Otto - 0.5ml
---
100% Rose Otto
The Bulgarian Rose oil is produced in the beautiful Rose Valley from oleaginous Rosa Damascena. Its scent is wonderful, soothing and long lasting.
Containing a complex array of vitamins, minerals, and antioxidants, the Bulgarian rose oil is a powerful skin re-generator and it has excellent emollient properties for deep hydration. It also offers antiseptic and astringent properties to treat acneic skin, as well as anti-inflammatory properties that help treat redness and inflammation.
In aromatherapy Bulgarian Rosa Damascena oil is used for its calming and relaxing effect. It has been used also as an aphrodisiac, as well as a natural mood lifter. It's been shown to help in improving serotonin and other neuropeptides in the brain — aka those good mood hormones. 
This "liquid gold" is an essential component of most luxurious perfumes and cosmetics.
It is good for helping those in grief or emotional distress as well as individuals suffering from depression and anxiety.
Volume:0.5ml, comes in vial and wooden container for temperature regulation wrapped in package.
---
Share this Product
---
More from this collection